From product design and purchasing via production and marketing through to reuse and recycling: Audi wants to make cycles an integral part of the automotive value chain. After all, when a car reaches the end of its service life, it is still far from being over. Returning materials to cycles saves resources and energy that would otherwise be required to produce new raw materials.
Glass-recycling pilot project
Damaged car windows and windshields are often recycled if the cracked part can't be repaired, but a closed material loop for damaged automotive glass has thus far been non-existent. Audi and its partner companies Reiling Glas Recycling, Saint-Gobain Glass and Saint-Gobain Sekurit did pioneering work in this area through a joint pilot project. These partner companies want to turn damaged car glass into a recyclable material for series production, and they've drawn up a multi-stage process to that end. First, the car glass is crushed through an innovative recycling process. After that, all non-glass contaminants such as adhesive residue are separated out. The glass granules recovered this way are melted down and processed into new plate glass. This plate glass is then turned into new car windows and windshields. Audi has now transferred the pilot project to series production together with its partners: From September 2023 glass with a recycled content of up to 30 percent from car windshields that can no longer be repaired, will be used for the windshield of the Audi Q4 e-tron series. Audi is the first premium manufacturer to establish such a glass cycle in the automotive industry.
Press contacts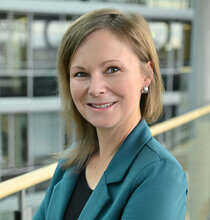 Julia Winkler
Spokesperson model serie Audi A3, PHEV, aerodynamics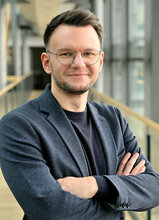 Marius Holfert
Spokesperson Procurement
All press contacts