Audi's vision of a circular economy
From product design and purchasing via production and marketing through to reuse: Audi wants to make cycles an integral part of the automotive value chain.
The earth's resources are finite. So using them efficiently is essential. "Closing material cycles can decouple economic growth and resource consumption as well as reduce dependencies," says Dennis Christian Meinen, Circular Economy Expert at Audi. The goal of the circular economy is to preserve the value of products and materials for as long as possible.
Audi looks at its products over their entire life cycle. A wide variety of materials are used in a single vehicle – from metals such as steel and aluminum to plastics, electronics, and glass. While many of these materials have long been fed back into recycling cycles, for others there has often only been one way: downcycling. Audi wants to change this by keeping as many resources as possible in closed cycles.
Audi considers aspects like recyclability as early as a vehicle's development and design stages – years before the first series vehicle leaves the factory. One statement in particular guides Audi's actions: "Materials not used in the first place protect the environment the most." That's why Audi is driving sustainable product development and constantly looking for inspiration, for example, on how to improve recyclability and/or save materials. Since design remains the top reason for purchasing an Audi, the brand with the four rings places a special emphasis on balancing aesthetics and sustainability.
When a vehicle reaches the end of its life, an individual decision is made on how to proceed with selected components – in line with Audi's vision of establishing a cycle for an increasing number of parts. First use does not necessarily have to be followed by recovery or recycling. The top priority is to reuse a component elsewhere after its first use without the need for further modification. Repairing it, for example, might suffice here. Take transmissions: they are a great candidate for processing and reuse. Batteries might find a new use in their second life as energy storage devices. If the reprocess/reuse door is closed, the component is recycled to create something new. One advantage is that the use of secondary materials saves valuable resources and energy that would otherwise be needed to produce new, so-called primary materials.
A closed deal: the Aluminum Closed Loop
Aluminum has found increasing use in more and more series for over 25 years. Since production is highly energy-intensive, efficient use of this material is all the more important. However, a cycle can only be considered closed when the material in question can be reprocessed without loss of quality and reused in its original quality. Today, Audi and its suppliers succeed in reprocessing aluminum scraps in virgin material quality with the Aluminum Closed Loop. The successive introduction of the Aluminum Closed Loop in Audi's press plant starting in 2017 was able to prevent more than 595,000 tons of carbon dioxide emissions1 in 2021. Now, the Neckarsulm and Ingolstadt plants, the multi-brand site in Bratislava and, starting in 2021, Győr are also implementing the Aluminum Closed Loop. Audi is the first car manufacturer to be awarded the Aluminium Stewardship Initiative's Chain of Custody certificate.
1Audi updated its calculation of the CO2 savings from the Aluminum Closed Loop following a re-evaluation of the press shop offcuts compared to the previous year. Audi understands net-zero carbon emissions to mean a situation in which, after other possible reduction measures have been exhausted, the company offsets the carbon emitted by Audi's products or activities and/or the carbon emissions that currently cannot be avoided in the supply chain, manufacturing, and recycling of Audi vehicles through voluntary offsetting projects carried out worldwide. In this context, carbon emissions generated during a vehicle's utilization stage, i.e. from the moment it is delivered to the customer, are not taken into account.
Chemical recycling of plastics
Can the concept of the circular economy also work for other materials? Multiple-variety plastic waste is still a particular challenge here.On average, today's cars contain about 250 kilograms of plastic parts a piece. One approach involves shredding and sorting these parts from other materials before reprocessing them into plastic granulate.
But mechanical recycling of plastics reaches its limits where different plastics are processed in a composite where various adhesives, coatings, and fillers such as glass fibers are used. An added disadvantage, the quality of the plastics decreases with each mechanical processing step. As a rule, plastics recycled in this way are no longer suitable for use in vehicle construction, especially not for safety-relevant components.
Together with the Karlsruhe Institute of Technology (KIT) and industry partners, Audi is therefore working on a new recycling method.The recycled plastic waste can be processed into pyrolysis oil, which could replace petroleum as raw material used to manufacture high-quality plastic components. The components made from pyrolysis oil have the same high quality as virgin materials, according to research to date. Material cycles closed in this way save energy. At the same time, they let Audi optimize the procurement process. The first series-produced component to emerge from this process is the seatbelt buckle cover for the Audi Q8-e-tron. It is expected that more than half of the secondary raw material recovered can be returned to production.
Components made with recyclates in many models
Additionally, as a contribution to resource conservation, we are using recyclates – processed materials derived from a recycling process – in more and more components. That is not only a matter of reducing carbon emissions, but also economical and efficient use of materials.

The company plans to continuously increase the percentage of recyclates in Audi models. The aim is also to manufacture seat covers, for example, from single-variety materials to facilitate their return to the cycle.
There are already up to 27 components made with recyclates in an Audi Q4 e-tron. They are sourced, for example, from industrial production waste. Plastic components in particular need to meet stringent heat resistance, dimensional stability, and quality requirements over the life of the vehicle. On the exterior, that includes parts like the front-end carrier – a part that some cooling components, headlights, or the bumper are attached to and that has to meet particularly high mechanical demands. What's more, a large proportion of the headlight mounts, wheel arch liners, fender covers, floor trim, and wheel spoilers is made from secondary raw materials.
A second life for PET bottles
In the interior of the Audi Q4 e-tron, recyclates are used in the insulation and damping materials. Moreover, many of the visible surfaces contain recycled materials. These include the floor covering and parts of the luggage compartment trim. In the S line interior, Dinamica microfiber material, in combination with artificial leather, functions as upholstery for the sport seats. Polyester fibers make up 45 percent of the Dinamica material, which still looks and feels like suede, however. The fibers used are obtained from recycled PET bottles, old textiles, or residual fibers. In contrast to the previous microfiber quality, the production of Dinamica is also solvent-free – a further contribution to environmental protection.
The carpeting and floor mats in the Audi e-tron GT are made of Econyl – a material that consists of 100 percent recycled nylon fibers. They come from production waste, fabric and carpet scraps, or old fishing nets. The sports seats plus come optionally in a leather-free design package in black. The seat covers here are either a combination of imitation leather with the fabric Kaskade or a mix of imitation leather with Dinamica. Either way, the covers are made predominantly with materials such as polyester fibers recovered from recycled PET bottles, textiles or residual fibers – each Kaskade seat cover alone contains 119 recycled plastic bottles.
Seat covers made from secondary raw materials were used for the first time in the fourth generation of the Audi A3. They contain up to 89 percent recyclate. There are up to 45 1.5-liter PET bottles in the Audi A3's seats. Then there are the additional 62 PET bottles that are recycled for the carpet. In fact, more and more components in the A3's interior are made with secondary raw materials, including insulation and damping components, the side panels of the trunk, the loading floor, and the insert mats.
Glass cycle for car windows
Audi and its partner companies are pioneering the establishment of a closed material cycle for car glass. To this end, Audi has launched a pilot project in cooperation with Reiling Glas Recycling, Saint-Gobain Glass, and Saint-Gobain Sekurit. The companies want to turn used car glass into a recyclable material for series production and have set up a multi-stage process for this purpose: The car windows are first broken up into small pieces using an innovative recycling process. Then all the non-glass impurities like glue residue are eliminated. The resulting glass granulate is melted down and turned into new plate glass. That plate glass is then turned into a new car window. The pilot has now been successfully completed and the process will be transferred to series production. From September 2023, the windows produced in this fashion will be used for the models of the Audi Q4 e-tron series.
Recycling glass means that less energy and raw material have to be used overall to produce windows – using processed materials ultimately makes it possible to reduce the demand for primary materials like quartz sand.
The example of glass demonstrates that having the courage to use innovative technologies makes it possible to integrate other materials into the circular economy. By the way, existing material cycles can always be optimized. The potential of the circular economy is far from exhausted.
With the courage to use innovative technologies, it is possible to integrate further materials and components into the Circular Economy. Furthermore, existing material cycles can continually be further improved. The potential of the Circular Economy is far from having been exhausted. Circular Economy will become increasingly important at Audi. The company's commitment to sustainability is also expressed in the materials it uses in design. The new materials show how aesthetic, high-quality, and visionary sustainability can be.
Press contacts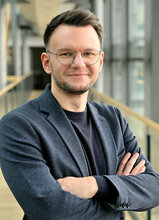 Marius Holfert
Spokesperson Procurement
All press contacts